So it's Tuesday and we can finally go to Burghley!!! It was no small feat getting 5 horses and everybody's stuff onto one lorry. We arrived around 1 pm and then had a blast unloading everything… haha!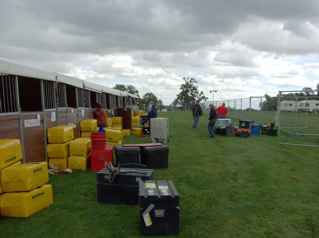 I went for a long walk with Karen, Becky and Missy.
We got a sneak peak of the course and the main arena and now I am waiting to have a lesson with Betina Hoy. I got to work with her last year prior to Blenhein hand I thought she was fantastic. I am really looking forward to lessoning with her the next couple of days. It is however dumping rain now… and lightening… supposably we had another named hurricane in the states and we are going to get all the rain from that… GREAT!!! OK time to go get on!