The focus of Allison Springer Eventing is to train international event horses to the highest level of competition worldwide. The ultimate goal is to represent the United States in Olympic competition.
Who Is Allison Springer?
By Carolyn Springer, Allison's Mother
(Written in 2006)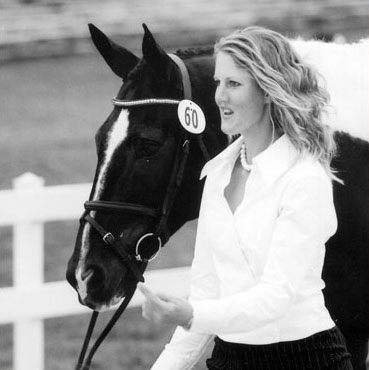 Many people, who decide to take on a task, do something or learn something, will give up on it if they find it difficult, hard to do or fail the first time. That is not Allison. She is tenacious. If it is hard, she tries harder and will keep working at it until she succeeds. And we are not just talking about riding horses. Allison is not a one-note person. She excelled in school and was active in and out of school. In high school she pursued a rigorous Advanced Placement curriculum (A.P. Physics, Calculus, English, Spanish, etc.). She was a varsity diver, alpine ski competitor, in student government and assistant editor of the literary magazine. She earned her colors in the Fox River Valley Hunt at an early age and achieved the A rating of National Pony Club by the age of 16. She went on to graduate from the highly selective Bowdoin College where she was on the Dean's list. She continued her active involvement in the Bowdoin community.
Yes, Allison is tenacious. She sets goals for herself and works day and night to achieve them. Does anyone question her extraordinary work ethic? At the American Eventing Championships this year, two of her students who had driven down for the week to watch her, regaled us with tales of what a great teacher she is and how long and hard she works. They said that at times Allison will give 10-12 lessons with out a break and that everyone is thrilled with their improvement because of her.
Allison has great empathy for horses. I have heard it said that Allison likes to ride difficult horses, perhaps she enjoys the challenge. I don't believe that is true. I think she feels something in these horses, she understands them, and she has a connection to their spirit, a great empathy, an understanding of them. I truly think she can sense a horse's capabilities and loves to bring it out in that horse. An example of this that I love is her little wild red horse Ben. Ben was unridden until he was gelded at 7 years old. Allison took him all the way to Rolex and we all marveled at that. And what a turnaround we are seeing in Arthur. He was so wild and spooky to start and now we have watched him perform a most magnificent dressage test at the Radnor CCI3*-L.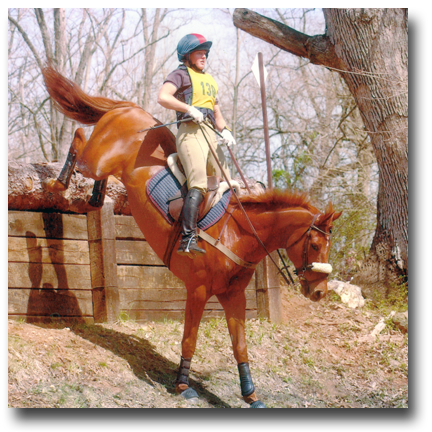 Allison has such fortitude. She is so good under pressure and so resilient. It amazes me that when she succeeds she is always thinking how to make it better and when bad things happen she can somehow go forward with even more determination. When "Berger" was kicked, it was a devastating blow both to him and to her. But her determination, hard work, and care, not to mention lots of expense, have won out and I believe that we will see great things for that pair.
But best of all, Allison has a truly loving heart. Not just for horses, but for people too and again an ability to bring out the best. There are many examples among her students but I will give just one. Several years ago, Allison had a teenage working student that did not talk; she had stopped talking in kindergarten. There was nothing physically wrong with her and she was home schooled because of this. After working with Allison for several months, she became a chatterbox.
It is true that Allison is always working to improve herself. Her trips to Wellington have become a mission to improve her dressage and jumping by working with the best dressage and jumping people. And as humble as she is, she feels the improvement.
How It All Began
By Allison Springer
I have been riding horses since age six. My infatuation with the animal had somewhat of an odd start. I was a thumbsucker! Yes, I sucked my thumb into the years my father considered "too old" This was a concern because I had perfect teeth, and the dentist had told my parents that I had a 99.9% chance of not needing braces as long as I didn't continue to suck my thumb. All sorts of attempts were made to end this terrible habit; positive reinforcement, negative reinforcement, Tabasco sauce on the thumbs (killed my eyes!) to no avail. Exasperated, my father went back to the dentist for more advice. The advice was simple: "Bribe her." Genius! I happened to be in a Barbie Doll phase and had been constantly begging for the newest doll out. I think the one I wanted at the time was something ridiculous like Malibu Barbie. I do think my dad was hoping it was going to be as simple as Malibu Barbie, unfortunately for him I had missed the bus home from school that day and went home with a neighbor who had a pony. I brushed the pony, fed the pony, rode the pony. I LOVED the pony. I remember thinking that was the most glorious day of my life. So that evening when my father came to me with his proposition — will give you one thing, anything, as long as you quit sucking your thumb right now and never do it again. I needed no time to think. "I want a pony." I remember his face and his response: "What? A real one?" I never cheated. I was so stricken with the pony disease, there was no looking back. My dad was a man of his word and I KNEW my having a pony was meant to be.
And from that point things progressed.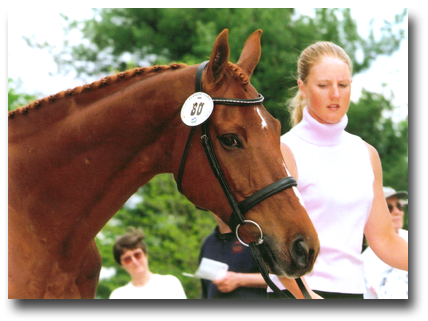 The Olympic dream was something that began at an early age as well. There were two childhood memories that stand out. One was when I was very, very young. My family went to watch the winter Olympics at Lake Placid. I remember sitting on my father's shoulders taking in the spectacular sights. The patriotism was truly awesome. I'm not sure I could do much more than walk at the time, but this experience instilled in me how special the Olympics are and why they are every athlete's ultimate goal. The second experience was watching the Los Angeles Games on the television. That was the first time I actually saw my sport, three day eventing. I watched all the equestrian sports, but the Three-Day Event was what captured me, to me this was the ultimate horse sport. And once again I felt destiny knocking on the door! I knew that was what I was going to do. From that day forward my dream and determination have never wavered. I am going to represent our country in Olympic competition.
Accomplishments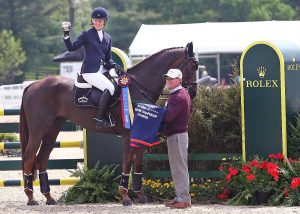 Based between Upperville, Virginia; Aiken, South Carolina and Wellington, Florida; Allison competes, coaches and gives clinics across the country. Some recent and notable accomplishments include:
USEF CCI2* Eventing National Champion, 6-year-old horse, 2020 (Vandyke)
4th Place, Tryon International 3-Day Event CCI2*-L 2020 (Vandyke)
7th Place, VHT International Advanced 2020 (Vandyke)
1st Place, VHT International CCI3*-S 2020 (Crystal Crescent Moon)
7th Place, VHT International CCI2*-S 2020 (Vandyke)
6th Place, Morven Park Fall Advanced 2020 (Business Ben)
1st Place, Morven Park Fall Intermediate 2020 (Crystal Crescent Moon)
2nd Place, Morven Park Fall Preliminary 2020 (Vandyke)
3rd Place, Morven Park Fall Novice Horse 2020 (Pip's Thunderbolt)
2nd Place, Middleburg Horse Trials Preliminary 2020 (Vandyke)
1st Place, Blue Ridge Mountains at TIEC 2020 (No May Moon)
1st Place, Great Meadow International Preliminary 2020 (No May Moon)
2nd Place, VHT International CCI2*-L 2020 (Crystal Crescent Moon)
USEF CCI2* Eventing National Champion, VHT International, 2019 (Crystal Crescent Moon)
2nd Place, VHT International CCI2*-L 2019 (Crystal Crescent Moon)
9th Place, Fair Hill International CCI4*-L 2019 (Business Ben)
8th & 9th Place, Morven Park CCI4*-S 2019 (Sapphire Blue B and Business Ben)
2nd Place, Morven Park Preliminary Championships 2019 (Crystal Crescent Moon)
2nd & 5th Place, Blue Ridge Mountain Horse Advanced 2019 (Sapphire Blue B and Business Ben)
8th Place, Great Meadow International CCI2*-S 2019 (Crystal Crescent Moon)
7th and 11th Place, Jersey Fresh International CCI4*-L 2019 (Sapphire Blue B and Business Ben)
1st and 2nd Place, The Fork Advanced 2019 (Business Ben and Sapphire Blue B)
10th Place, Carolina International CCI4*-S 2019 (Sapphire Blue B)
2nd Place, The Virginia CCI3*-L 2018 (Sapphire Blue B)
10th Place, Plantation Field International CCI4*-S 2018 (Business Ben)
1st Place, Chattahoochee Hills H.T. Advanced 2018 (Lord Willing)
6th Place, Chattahoochee Hills H.T. Advanced 2018(Business Ben)
3rd Place, Millbrook H.T. Advanced 2018 (Lord Willing)
4th Place, Jersey Fresh International CCI4*-S 2018 (Lord Willing)
8th Place, Jersey Fresh International CCI3*-L 2018 (Business Ben)
3rd Place, Fair Hill International Advanced 2018 (Lord Willing)
10th Place, Fair Hill International CCI3*-S 2018 (Business Ben)
1st Place, Morven Park Intermediate 2018 (Lord Willing)
15th Place, Carolina International CCI3*-S 2018 (Business Ben)
6th Place, Pine Top Advanced 2018 (Lord Willing)
1st Place, Pine Top Intermediate 2018 (Lord Willing)
12th Place, Fair Hill International CCI3*-L 2017 (Lord Willing)
4th Place, Plantation Field CCI3*-S 2017 (Lord Willing)
Top 15, Plantation Field CCI3*-S 2017 (Fernhill Casano and Business Ben)
3rd Place, Richland Park CCI3*-S 2017 (Lord Willing)
2 Top 15, Richland Park CCI3*-S 2017 (Business Ben and Fernhill Casano)
1st Place, Millbrook H.T. Intermediate 2017 (Lord Willing)
12th Place, Maryland H.T. CCI3*-S 2017 (Business Ben)
1st and 15th, Pedigree Bromont CCI3*-L 2017 (Lord Willing and Fernhill Casano)
2nd Place, Virginia CCI2*-L 2017 (Fairvoya S)
12th Place Carolina International CCI3*-S 2017 (Lord Willing)
Top 20 $100,000 Wellington Eventing Showcase 2017 (Arthur)
10th Place Ocala Jockey Club International CCI4*-S 2016 (Arthur)
5th Place Ocala Jockey Club International CCI2*-L 2016 (Business Ben)
Top 15 Virginia CCI3*-S 2016 (Lord Willing)
11th Place Stable View Advanced 2016 (Arthur)
1st Place Plantation Field CCI2*-S 2016 (Lord Willing)
10th Place Plantation Field CCI2*-S 2016 (Business Ben)
11th Place USEA American Eventing Championships 2016 (Arthur)
1st Place Carolina International CCI4*-S 2016 (Arthur)
2nd Place Pine Top Advanced 2016 (Cascani)
10th Place Pine Top Advanced 2016 (Mr. Sydney Rocks)
1st Place Carolina International CCI4*-S 2015(Arthur)
5th Place Galway Downs International CCI4*-L 2015(Athlone Anto)
5th Place Fair Hill International CCI3*-L 2015 (Cascani)
8th Place Richland Park CCI3*-S 2015(Cascani)
4th Place Bromont Canada CCI3*-L 2015(Athlone Anto)
8th Place Jersey Fresh International CCI4*-S 2015 (Mr. Sydney Rocks)
3rd Place Fair Hill International CCI4*-L 2014 (Copycat Chloe)
Completed Burghley CCI5*-L 2014 (Arthur)
9th Place Jersey Fresh CCI4*-L 2014 (Copycat Chloe)
Completed Rolex Kentucky CCI5*-L 2014 (Arthur)
5th Place Bromont CCI4*-L 2013 (Copycat Chloe)
4th Place Fair Hill CCI4*-S 2013 (Copycat Chloe)
USEF East/West Travel Grant Recipient 2013
Tex Sutton Forwarding Company Travel Grant Recipient 2013
Named to the 2013 USEF High Performance World Class Training List
HSBC FEI Classics Series 3rd Place (Highest placing ever by an American)
Named as an Alternate to the 2012 London Olympic Team
6th Place Burghley CCI5*-L 2012 (Arthur)
Top Placing American Rolex Kentucky CCI5*-L 2012
Best Conditioned Horse Award at Rolex Kentucky CCI5*-L 2012 (Arthur)
2nd Place Rolex Kentucky CCI5*-L 2012 (Arthur)
1st Place Red Hills Advanced 2012 (Arthur)
Winning the Dubarry Best Dressed Award 2011
1st Place Red Hills CCI4*-S and Winner of The Mercedes Award 2011 (Arthur)
Winner of The Zeppa Award for Best Turned Out Pair at Rolex 2008 and 2009 (Arthur)
Reserve Champion Horse of the Year 2009 (Destination Known)
"A" Rated Pony Club Trainer and Coach
ICP Certified